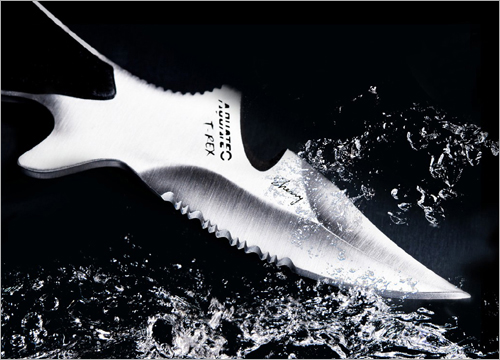 Knife
Folding Knife, SUS knife, Titaium Knife, Knife strap
Aquatec Dive Knife is a general tool and safety device. Aquatec T-rex helps you to free yourself when entangled. Aquatec T-Rex Dive Knife is an ergonomically knife, crafted to combine a high degree of functionality and practicality. Aquatec Dive Knife can be attached to the diver via conventional knife straps (provided) or via the special mounting plate. In addition, the Aquatec Dive Knife can also be mounted onto any regulator hose by utilizing the hose clamp.
---
Aquatec Catalog
Aquatec Catalog, Aquatec Product List.

Download
Knife | Scuba Diving Equipment Manufacturer | SCUBA AQUATEC
Located in Taiwan since 1984, AQUATEC - DUTON INDUSTRY CO., LTD. has been a manufacturer of scuba gear and diving equipment. Their main scuba gear and dive equipment include, Knife, BCD power inflators, first stage scuba regulators and second stage scuba regulators, scuba BCDs, BCD power inflators, scuba dive gauges, scuba sub alerts, scuba duo alerts, dive lights and underwater pressure gauge for scuba diving, which has been sold to over 45 countries with CE certification.
SCUBA AQUATEC is one of the leading diving equipment | scuba equipment manufacturers based in Taiwan since 1984. CE certified & pro equipment, SCUBA AQUATEC's scuba diving equipment provides worldwide divers excellent and unique diving experience. The wide selection of diving & scuba equipment including diving fins, sidemount systems, scuba pressure gauges, dive gauges, scuba gauges, scuba gears and more.
SCUBA AQUATEC has been providing its customers with high quality underwater diving gear and equipment, both with advanced technology and 39 years of experience, SCUBA AQUATEC ensures that each customer's needs are met.
View our quality products
Regulator First Stage
,
Regulator Second Stage
,
Buoyancy Compensator
,
Console Gauges
,
Pressure Gauge
,
Compass
,
Depth Gauge
,
Power Inflators
,
SUB-Alert
,
304 Stainless Steel Back
,
Tank Band
,
Spring Fin Strap
,
Hose Clip
,
Wreck Reels
,
Swivel Connector
,
Tank Boot
,
Tank Holder
,
Hose Protector
,
Dust Cap
,
Over Pressure Valve
,
Pony Buttle Connector
,
Nylon Belt
,
Tool Kits
,
Mask Box
,
Mask Strap
and feel free to
Contact Us
.