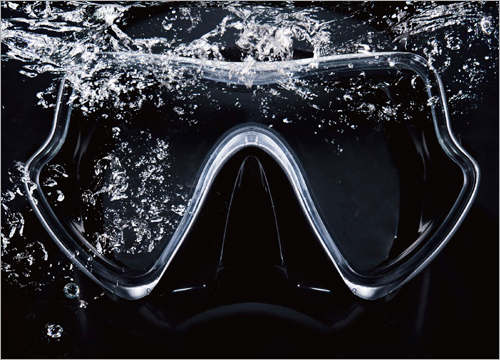 Mask / Fins / Snorkel
Snorkeling gear, Mask, Fin, Mask strap, mask box, Spring fin straps
A diving mask is an item of diving equipment that allows underwater divers, including scuba divers, free-divers, and snorkelers, to see clearly underwater. Surface supplied divers usually use a full face mask or diving helmet, but in some systems the half mask may be used.
The SCUBA fins' main purpose is to aid SCUBA divers in moving more swiftly and efficiently underwater with the least amount of effort possible. Since fins provide a wider area to push and move against the water, divers need not to use their hands anymore to move underwater.
A snorkel is a device used for breathing air from above the surface when the wearer's head is face downwards in the water with the mouth and the nose submerged. ... The snorkel may come with a rubber loop or a plastic clip enabling the snorkel to be attached to the outside of the head strap of the diving mask.
---
Aquatec Catalog
Aquatec Catalog, Aquatec Product List.

Download
Mask / Fins / Snorkel | Scuba Diving Equipment Manufacturer | SCUBA AQUATEC
Located in Taiwan since 1984, AQUATEC - DUTON INDUSTRY CO., LTD. has been a manufacturer of scuba gear and diving equipment. Their main scuba gear and dive equipment include, Mask / Fins / Snorkel, BCD power inflators, first stage scuba regulators and second stage scuba regulators, scuba BCDs, BCD power inflators, scuba dive gauges, scuba sub alerts, scuba duo alerts, dive lights and underwater pressure gauge for scuba diving, which has been sold to over 45 countries with CE certification.
SCUBA AQUATEC is one of the leading diving equipment | scuba equipment manufacturers based in Taiwan since 1984. CE certified & pro equipment, SCUBA AQUATEC's scuba diving equipment provides worldwide divers excellent and unique diving experience. The wide selection of diving & scuba equipment including diving fins, sidemount systems, scuba pressure gauges, dive gauges, scuba gauges, scuba gears and more.
SCUBA AQUATEC has been providing its customers with high quality underwater diving gear and equipment, both with advanced technology and 39 years of experience, SCUBA AQUATEC ensures that each customer's needs are met.
View our quality products
Regulator First Stage
,
Regulator Second Stage
,
Buoyancy Compensator
,
Console Gauges
,
Pressure Gauge
,
Compass
,
Depth Gauge
,
Power Inflators
,
SUB-Alert
,
304 Stainless Steel Back
,
Tank Band
,
Spring Fin Strap
,
Hose Clip
,
Wreck Reels
,
Swivel Connector
,
Tank Boot
,
Tank Holder
,
Hose Protector
,
Dust Cap
,
Over Pressure Valve
,
Pony Buttle Connector
,
Nylon Belt
,
Tool Kits
,
Mask Box
,
Mask Strap
and feel free to
Contact Us
.